Berserker, a High Middle Ages light unit, trainable in Berserker Barracks (3x3) which can be unlocked by researching the counterstrategy technology.
Unlike its predecessor, Mercenary, it has an imbalance in attack and defense points: it has a defense value of 16 and an attack value of 20 (which is the highest among High Middle Ages units which is the same as the Crossbowman's attack). An additional attack bonus of 6 makes it very effective against Fast Units, and it also gets a defense bonus of 6/4 in Forests/Bushes (respectively). Like all light units so far, it is best to deploy Berserkers in forests and bushes so that they have a defense boost.
It is recommended to combine them with ranged classes, such as Crossbowman and Trebuchet, as they have a bonus against Heavy Infantry (which Berserkers are weak to). You should not use Berserkers against Heavy Infantry as they will most likely be killed quickly.
Although they have a high attack value (same as Crossbowmen), they are less likely to act as attackers but defenders to counter fast units.
It looks just like the SA Clubman.
Image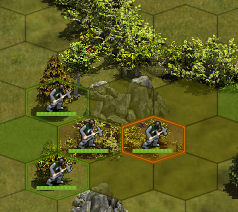 Other Military Units
Legend:

= Light Unit Class

= Heavy Unit Class

= Fast Unit Class

= Ranged Unit Class

= Artillery Unit Class