Information
The catapult is an Early Middle Ages artillery unit. It is the last unit to be unlocked in this age. Compared to the Ballista it gains 2 attack, giving it good attack values for an artillery unit. It is most useful to attacking Heavy Infantry. They are effectively used when put on hills and attacking Armored Infantry or other Heavy units, they can cause serious damage to them. Catapults cannot hurt Cannons significantly, but they cause heavy damage to other squishy units without any dug-in ability when used in a group. 
Usage
The catapult gains attack on hills, making it much more useful. They are especially vulnerable than an average artillery unit of another age. In the EMA mounted archers come into play, which is practically an Iron Age archers on a horse. These mounted archers can generally reach Catapults on the first turn, effectively giving them a bonus against them. With one hit, Catapults will be reduced to almost zero health, and with very reduced attack capabilities.
They are also less effective against mounted archers themselves, as the later gains 4 extra defense compared to Iron Age archers. The best way to use Catapults is against Heavy Infantry. Since heavy units are slow, a fast unit can lead the heavy units on a chase while having the catapult hitting them every turn. This theoretically can allow a fast unit and one catapult to win a battle vs up to three full health heavy units.
Catapults are ineffective against the Mercenary, usually doing around one hitpoint if they are in cover. Make sure to have heavy units holding off any fast or light units before they reach the Catapults.
Bugs
Confirmed on PC: In battle sometimes the Catapult will quickly revert to facing a different direction than the way it was facing. For example, a catapult facing the enemy would flash to facing the other direction before reverting back to its original state. Does not have an effect on gameplay.
Image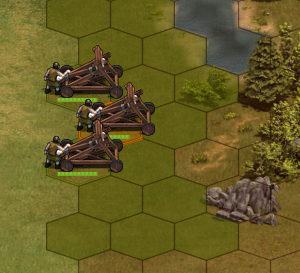 Other Military Units
Legend:

= Light Unit Class

= Heavy Unit Class

= Fast Unit Class

= Ranged Unit Class

= Artillery Unit Class