Efficiency
This page was created to help you maximise your production of coins and supplies.
Size and space are HUGE issues. To get you to save money on needless upgrades just check out the two sections, SUPPLIES & COINS
Please add to this page as you see areas for players to have a more optimal experience.
Maximising Space
Follow this link to see what you can do to not have wasted space
Supplies
A good way to use this table, sort by what you need. For example, if you have 6 total plots available and just dont want dead space, sort by size efficiency
If you have 100 population and you cant stand people sitting around and getting agro, sort by population effciency. 
The overall score should be the target, but sometimes that just dont fit your city layout or available population.
The formulas are as follows: 
Production / Size = Size Efficiency (SE)
Production / Population = Population Efficiency (PE)
SE + PE = Total Efficiency Score (TES)
(​TESx - TES(x-1)) / TES(x-1) = % Increase
My recommendation, if you are not increasing by 20% or more, is to retool your whole layout and to spend all the money to refab everything, avoid the unneeded hassle and just wait for the next one. Join a guild and rename your town, "Motv Supps".
I would skip the Fruit Farm and go straight to the blacksmith, its easier on my population because early on your pop. is low. 
COINS (Houses) 
I have copy and pasted the original page link here
Ways to use this table, lets say you are going from Tile Roofed Houses to the Cottage, and your doing fine on population. If you look and compare the efficiency, you gain people, but you lose overall revenue per person gained. So holding out for the Framed house might save you some money in the long run.
If you camp out on the game, and can click collect every 15 minutes, then staying with Roof Tile might be best for your style of play. If you are a once a day player then targeting a 4 hour production house might be the best for you.
And perhaps your like me, and just need more people to advace your town, then just upgrade.
The table has been posted here.
HAPPINESS
I could copy paste the tables over here for this section, or i could link the incredibly good work that this person did.
http://forgeofempires.wikia.com/wiki/Happiness Tables in each of the 3 links on the page.
How I would use this link and the info it provides... stop buying trees!!! save up and buy the bigger thing that takes less total room but gives you MORE happiness.
CRITIQUE
SO looking at the following picture, lets see if we can find some areas to improve: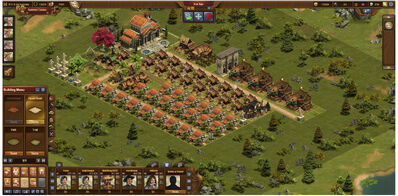 First thing i notice is dead space. fill it with huts, who cares, make every square of space make you money, supplies, or goods!
Notice the 1 triumphal arch and the 4 taverns. for the same space as the 4 taverns you could have 6 arches. 

6x190=1140 > 4x280 =1120.

Chalet vs. Cottage, perhaps you are hurting for happiness so that is why the chalets are still there, but  you gain 80 per chalet, 110 per cottage.

Notice the statues at the end of each road? Those provide double the amount of happiness as the road and still allow the road to reach the buildings in question. Thats smart thinking!
​Please feel free to comment or add pictures and critique them as well. As long as it is a helpful assessment of a build, it can stay.
Now you can streamline your city to maximize your use of space and use of population to net you the greatest overall production.68.3.221.116 20:53, July 31, 2013 (UTC)Pipp of Netzavre