Gallows

Gallows
Properties

Technology required

Executions

Building Cost

2200 Coins 2600 Supplies

Building Time

2 Hours

Happiness provided

160

Size

2x2

Age

Predecessor

Successor

Efficiency

40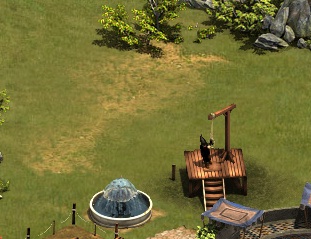 Gallows is the smallest Cultural Building until the Progressive Era with a size of only 2x2 (together with the Premium Cultural Building Pillory).
Other than the Pillory the Gallows provides the least amount of happiness, with its 160 happiness. Its main value is the size. You can fit them most anywhere on the map with little difficulty.
Gallows can be researched in the Early Middle Ages technology >> Executions.
A gallows (or scaffold) is a frame, typically wooden, used for execution by hanging, or as a means of torture before execution, as was used when being hanged, drawn and quartered. The gallows took its form from the Roman Furca when Constantine the Great abolished crucifixion.
Thus it can be said that the gallows as punishment replaced the crucifixion of the damned.
Notes