Information
The successor to the Berserker, it has a great leap in stats, (attack and defense). It remains very effective against fast units.
It will be a very popular unit. 2 Great Sword Warrior and 6 Rogues can beat most armies on the first continent map (Bronze Age - Colonial Age), which means they can be very common.
Usage
They are effectively countered with Imperial Guard, and can also be used in place of the Heavy Knight in the LMA entirely. They also do well against the Longbow Archer and the Cannon.
Image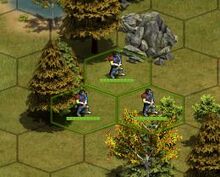 Other Military Units
Legend:

= Light Unit Class

= Heavy Unit Class

= Fast Unit Class

= Ranged Unit Class

= Artillery Unit Class