Rogue

The Rogue
Properties
Age
All Ages
Class
Light Unit
Attack
100
Defense
1
Range
1
Movement
14
Attack
Attack Bonuses
None
Defense
Defense Bonuses
None
Special Skills
Special Skills
Secret Identity
Other
Requirements
Rogue Hideout
Training Cost
None
Training Time
24 hours
Healing Time
2 hours and 24 minutes per Hit Point
Information
The Rogue is a special light military unit released during the 2013 Easter Event. These units have no bonuses but they possess the special ability of secret identity.
Attack Mode
A Rogue has an attack of 100, but also a very low defense and if a Rogue is "killed", then it will transform into another unit from your army, as long as the other units on the field are not also Rogues, or else this special ability is rendered useless, as the rogue will simply be killed and disappear from the board the first time it is hit.
The rogue is extremely strong when attacking other units until the Postmodern Era.
Defense Mode
Its defense is 1 so any attack will result in the Rogue becoming a regular combat unit.
Rogues and the Rogue Hideout are featured in the summer and winter events.
1 The Rogue ignores first damage and transforms into another unit of your army, however the Rogue will die if there isn't at least one unit without Secret Identity left.
Image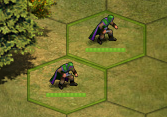 Other Military Units
Legend:

= Light Unit Class

= Heavy Unit Class

= Fast Unit Class

= Ranged Unit Class

= Artillery Unit Class